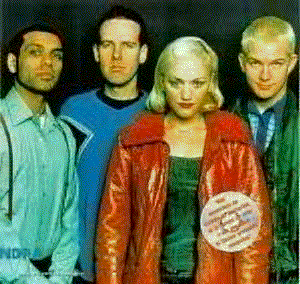 ---
Welcome to A Little Something Refreshing, my No Doubt website.
---
NO DOUBT IS:
Gwen Stefani:Vocals
Tony Kanal:Bass
Tom Dumont:Guitar
Adrian Young:Percussion

with:
Gabe McNair:Trombone and Additional Percussion
Stephen Bradley:Trumpet

---
MENU

Lyrics Links Videos(Through MTV)
Poll Quiz Tour
---
My No Doubt Trivia Tidbit for this week:
Did you know that Eric Stefani used to like to roll the creme in his Oreo's into a ball?
---
No Doubt Certain About Adding Texture to New LP's Sound

Click herefor this news from SonicNet
---
SONICNET VIDEO CHATSUNDAY, OCTOBER 25, 1998 9:00 P.M.!!!!!



SonicNet presents a special live video chat with No Doubt celebrating the launch of their official site No Doubt Land. Submit your questions directly to Foo Fighters/Nirvana/Germs guitarist Pat Smear for Gwen and the boys. No Doubt plan to give away prizes during the event.


---
No Doubters have visited my page.

---

---